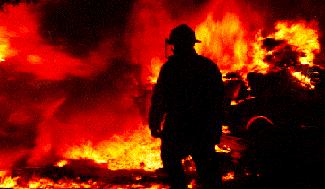 -- history --
i originally ran a bulletin board called SpaceBalls: The BBS, using T.A.G. software in 1992 after getting involved in bbsing in 1990.
it stayed up for approximately 2 years, and for the lack of money to support it at the time, i took it down.
around that same time, i took an interest in firefighting. (becoming a firefighter a few years later in 1997).
i had also started working so after graduating from high school, i had money again.
thus, in 1994, the emergency scene bbs (tes) was born.
it was up and down a couple times until 1997, when i got married and moved.
i had put it back up after the move, it was modified
at that point so that you can access it from the internet, thanks to telnet.
at that time it was a hybrid 2-line dialup system in addition to being accessible via telnet.
tes was on the internet back when telnet bbs' were still a new thing. i never really publicized it until 1999, where it stayed until 2002.
due to personal family problems, i was forced to take it down at that point. it was down until january 2004, and
brought back online running synchronet bbs until january 2008. at that time, tes was switched to renegade bbs. due
to problems with the telnet server locking up sockets for the com ports, tes was switched back to synchronet in august 2008
-- today --
the bbs is running dual systems (February 2017).
first system is running t.a.g. bulletin board system using NET2BBS telnet server.
it can be reached thru the web at http://web.bbs.emergencyscene.net and clicking "connect", or by telnet client at telnet://bbs.emergencyscene.net.
second system is running synchronet bulletin board system with integrated telnet server.
it can be reached thru the web at http://bbs.emergencyscene.net and either logging in thru the built in web-server or click "connect"
to login to the bbs thru the fTelnet client on the page, or by telnet client at telnet://bbs.emergencyscene.net.
the emergency scene is a free bbs available to the bbs community to send & receive echomail and routed netmail.
inside you will find a little for everyone. message areas, files areas, and games and just a plain ole good time.
tes is running on a dedicated amd phenom ii x4 at 2.9 ghz, with 3 gigs of ram under windows 7 professional under ESXi.
<![if !vml]><![endif]>

<![if !vml]><![endif]>

&
Visitors:
Last updated on Sunday November 01, 2020 05:48:18 PM